Hi,
I am looking for simple and efficient way of rescaling say 0-127 to 0-1, or 0-100. Also, how one could minimize mismatch. I find no object to do this.
I would do it like this: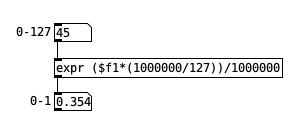 But this never reaches 1.
How do you usually do it?
I though I saw something on this in the documentation(s) but I can not find it.