Nek'Sum-6 drone/texture monophonic synthesizer is compose of 5 stages :
First stage -> 3 main OSC with noise mixer option and generative synthesis support with 5 types of waves (tri,sqr,saw,supersaw,generative).
Second stage -> Filter stage with morph option and 4 filters types : Pass through, Lowpass, Highpass, Bandpass for the first stage.
Third stage -> 3 LFO (sin,tri,sqr,saw) modulators for the second stage.
Forth stage -> 3 Phasor's for the third stage.
Fifth stage -> 1 Deep Reverb with Lowpass filter for the forth stage.
It is capable of generating a large soundscape of drone/texture sounds inspired by The Doctor.
-UPDATE-
Thanks to Seven of Nine Nek'Sum is now at version [v6.0]
Added Mandarin edition after cyber-brainstorming with Jade Chia-Jung [v6.0].
Translation of the Ancient Egyption logo into obscure dialect of Anquietas language, thanks to Daniel Jackson [v6.0].
Thanks to Nox cyberart society now the GUI is much better [v5.0].
Added reset, randomization and resize for the generative synthesis [v5.0].
Added generative synthesis support for each oscillator [v4.0].
Added a noise mixer with 4 types of noise for each oscillator (orange,yellow,blue,pink) [v3.0].
Added a morphing mechanism for filter stage [v3.0].
This new version has a better GUI interface powered by a Borg-Casimir engine [v2.0].
-CYBERLOG-
Project manager : Oma Desala
Programming/UX design : Boran Robert Andrei
QA engineer : Anubis
Generative synthesis system design/Lead engineer : Seven of Nine
DSP engineering : Jade Chia-Jung, The Doctor
Testing/debugging system engineer : Lt. Colonel Samantha Carter
Language consultant : Daniel Jackson
Patch Download English Edition :
Nek'Sum 6.rar
Nek'Sum 5.rar
Nek'Sum 4.rar
Nek'Sum 3.rar
Nek'Sum2.rar
Nek'Sum.zip
Patch Download Mandarin Edition :
Nek'Sum 6 - Mandarin Edition.rar
Mandarin special edition :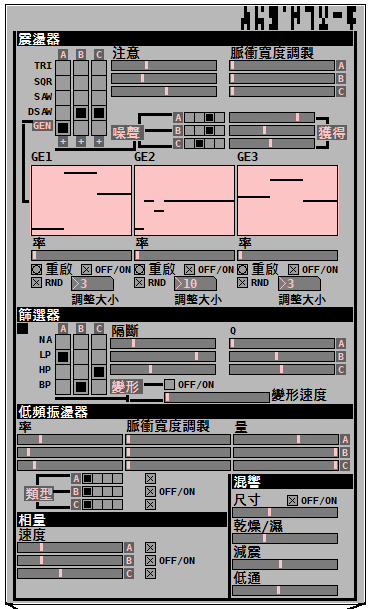 Snapshots :