Hello - first post here, fairly new PD user , working on a custom patch for the Organelle, a hardware synthesizer that runs PD inside.
Anyway, I have everything working except an LFO to sweep the moog~ filter object's cutoff. I have researched PD tutorials showing how to sweep a vcf~ object and this works fine, but it takes a number for the cutoff inlet while moog~ takes a signal. I've tried a few things converting and such but nothing that has sounded right. I know I need to get the numbers (with modulation from LFO) converted to signal before it hits the moog~ cutoff inlet. This is hard to test because its a Linux object, I'm on PC, so I can't hear any output until I try the patch on the Organelle itself.
Screenshot: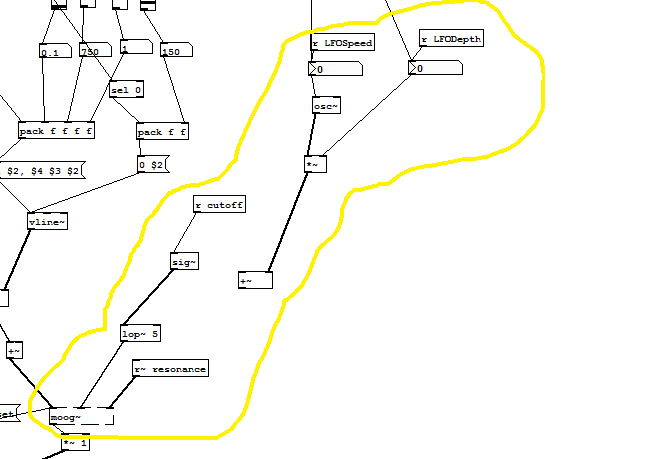 As shown, the LFO is obviously disconnected....I need to get that modulation 'added' to the cutoff freq before it hits the signal, but also not be out of range , if that makes sense....for example, I thnk the vcf~ filter has a range of 10k for its cutoff input, but moog~ is like 2100 or so. When I had this partially working, high settings of the LFODepth were causing gltiches/noise/silence.
Here is a link to what I'm basing this on (see bottom example)
http://archive.flossmanuals.net/pure-data/audio-tutorials/filters
Thanks