Hey guys
I have a very strange problem right now.
i have 3 dataflow strings passing through a route object using
three |x set $1( messages.
it looks like this.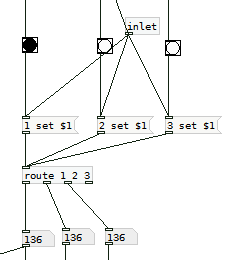 so far no problem as you see the numbers come out of the route object as they supposed to.
but if i now want to go on working with the numbers the flow stops.

i have no idea why this could be.
connecting things directly to the route object works fine. working with the data before the route object is also no problem.
but in the second instance after the route object the flow stops abrupt.
someone has an idea?
cheers tupac