This is a patch I've made to help me control my PD addiction. Run it as an abstraction in the patch that you are working on, set the timer, and then get the hell out of there before it reaches zero. Benefits include physical health, a more fast & furious patching style, more time with friends & family, etc.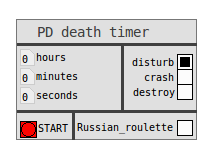 Disturb mode makes a really annoying sound which you can't turn off.

Crash mode will completely crash PD. I haven't actually tested it, and I don't recommend that you do either. Take a look inside the [pd consequence] subpatch to see what I mean...

Destroy mode will completely and permanently destroy the parent patch where [death_timer] is located. This IS tested and it DOES work. If you value your work at all, it's very important that you never use this! And if you do use it then don't come crying to me when your prized patches vanish into thin air.

Russian Roulette: every minute this introduces a 1% chance that your remaining time will be halved.

I wanted to have a fourth consequence called "uninstall PD", but I don't think that this is possible from within PD.
It is of course possible to delete the program once it's started and carry on patching unhindered, but you'd only be cheating yourself.
Note that this is vaguely inspired by http://writeordie.com/. I hope that someone else finds it "useful"!