Maximo (Guitar Rack) - 6 slots with 1 of 60 effects per slot (using "abs_effects_router" + an OSC controller (MobMuPlat)
The app is "maximo-help.pd".
maximo is an effects-chain giving the user 6 slots each one of which may be used to select from 1 of 60 effects (the first being "unchanged").
Check her for details about how to use the "abs_effects_router", http://forum.pdpatchrepo.info/topic/10693/abs_effects_router-60-effects-in-one-abstraction-router-from-diy2-stamp-album-my-abs/1 .
It also includes
a "maximo/admin.pd" abstraction to control:
dsp, bypass (all), reset (to set all effects to "unchanged"), and 9 presets (0 reserved for program usage) and both save-to-file and load-from-file preset buttons
an Open Sound Control (OSC) mapper ("maximo/osc_control.pd") for sending values (0 thru 1) to controls /cc/1 thru /cc/34 (see the patch for details).
and
an example OSC (MobMuPlat) controller at "./maximo-osc.mmp" and "./maximo-osc-mmp.pd"
MAXIMO EXAMPLE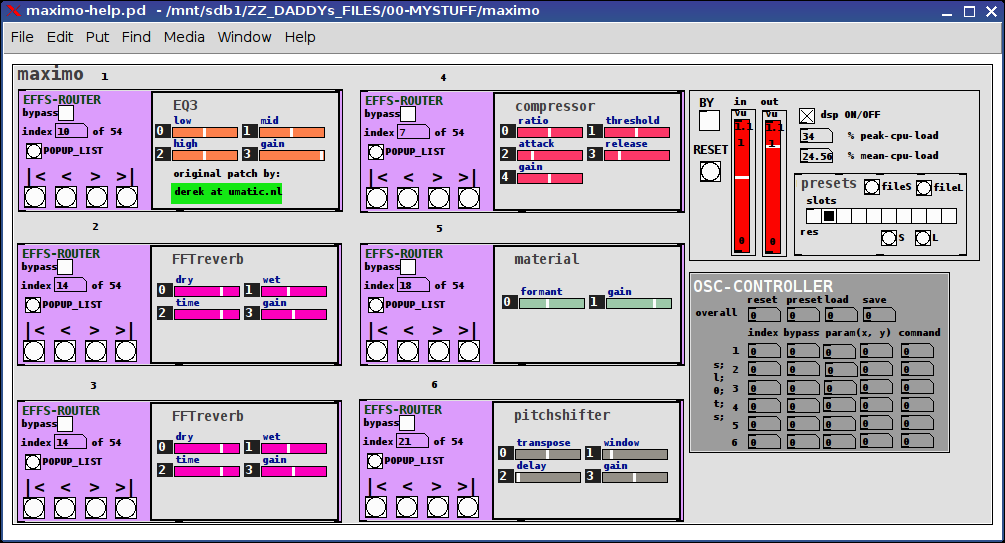 MOBMUPLAT INTERFACE
PAGE 1
PAGE 2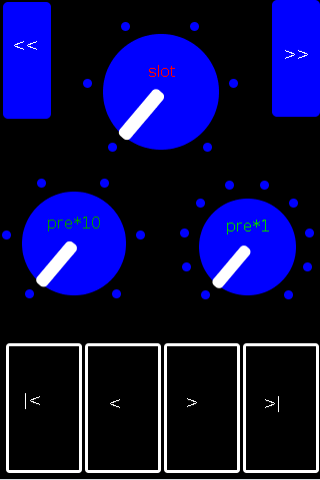 PAGE 3
---
All of this was contingent on the foundation and resources laid out in the DIY2 and Stamp Album collections and actually this was largely an example of persistence not any real insight and the largest percentage of the success goes to their creators for being so diligent about standardizing their abstractions.
I DO however hope you find it useful.
My GOAL was to eliminate what is often the case with effect stacks (I have seen) of having to connect all the effects. This eliminates that and makes it much cleaner: only having to select from the (tof/pmenu POPUP_LIST button) or navigate to the desired effect with the standard "first, previous, next, last" controls.
I hope you find the work useful and capable of helping you to manifest all those wonderful sounds you have in your head.
Peace and only Love,
Scott
The List of Effects per slot is: