The brand new Camomile release (1.0.1) is available!
Camomile is a plugin with Pure Data embedded that offers to load and to control patches inside a digital audio workstation. The plugin is available in the VST2, VST3 and Audio Unit formats for Linux, Windows and MacOS. Download and information on the website: https://github.com/pierreguillot/camomile/wiki.
Read carefully the documentation. Feedback are more than welcome!
For feature request and bug report, please use the issue section on the Github repository if you can:
https://github.com/pierreguillot/camomile/issues.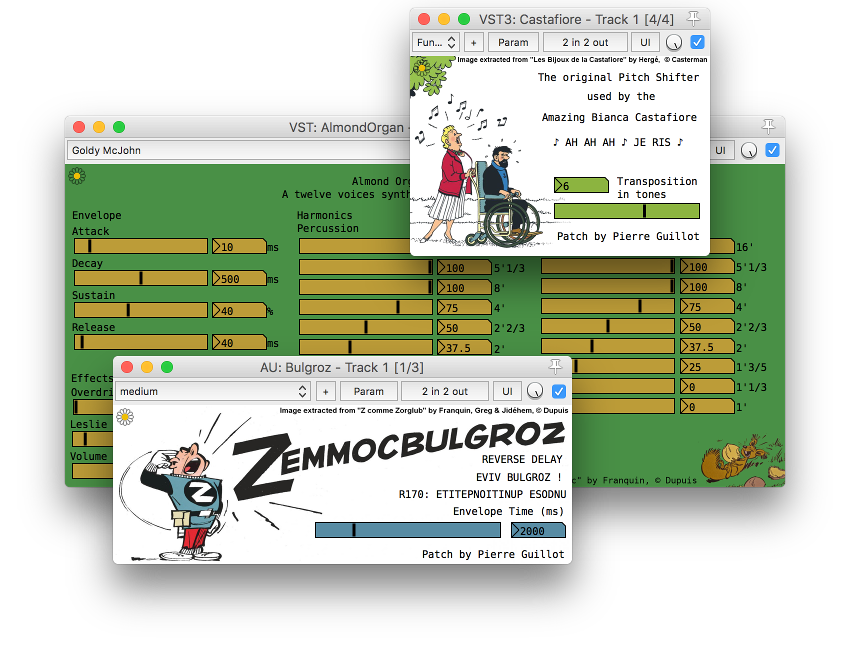 An overview of the main changes:
v1.0.0
Use libpd instead of my personal wrapper.
Use TLS approach of Pd to manage thread concurrency issues.
Use a text file to define the properties of the plugins.
Generate plugins with the patches included.
Separate the GUI and the parameters' definitions.
v1.0.1
Fix thread concurrency issue that occurred when selecting a program (#77).
Fix stack overflow issue due to concurrent access to the Pd's stack counter (#69).
Update documentation for VST2/VST3/AU generation on MacOS to display the name of the plugins in Ableton (#75).
Improve the whole documentation (#72) and start "How to Create Patches" (#73).
Add more warning when there are extra arguments in parameters' methods.
Add support for "openpanel" and "savepanel" methods.
Update examples Bulgroz, AlmondOrgan, Castafiore, MiniMock.
Start/Add support for patch description in the text file (#74).
Start/Add support for patch credits in the text file (#74).
Further information on the previous versions and the changes on this topic.